Air Conditioning Replacement, Air Conditioner Installation & Air Conditioner Replacement

Florence, MA, Westfield, MA, Northampton, MA, Southampton, MA, Leeds, MA & Easthampton, MA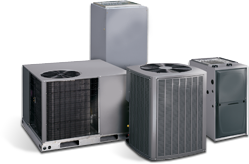 You expect your cooling system to deliver the perfect combination of money-saving efficiency, indoor comfort, and years of consistent service.  While you may believe repairs to your current system are less expensive than replacement, you need to factor in all of the associated costs.  If an older system is suffering from frequent repairs, the pattern is bound to continue, quickly adding up to a considerable investment into outdated technology.
Save energy with a brand new AC system!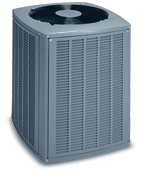 Upgrading to a modern system offers the benefits of a lowered energy bill.  You'll spend far less to keep your home comfortable, take advantage of warranty coverage, and enjoy superior comfort.  Advancements in cooling design have answered demand for enhanced filtration, dehumidification, and tighter temperature control, providing a healthier, cleaner, and more refreshing home environment.
With over forty years in the HVAC industry, Richard's Fuel & Heating Inc. relies on proven Goodman products to keep our valued customers wonderfully cool year after year.  Through a wide range of sizes, efficiency ratings, and features, you're sure to find the perfect answer to your requirements.  And when you count on Richard's Fuel & Heating Inc. for your home comfort, we ensure your complete satisfaction, providing on-time, on-budget, and precise installation.  We offer free quotes, accurate sizing of your new system, and continued maintenance, to achieve the highest rewards from your investment.
Superior products for the best in AC installation!
Consistently ranked by consumers as the preferred choice on the market today, Goodman brand air conditioners are built to last, delivering year after year of reliable performance.  Some of the many features that set these models apart include:
A high-performance compressor operates in partnership with a high-efficiency coil.  Designed to maximize surface area, the coil is constructed of rifled refrigeration-grade copper tubing and corrugated aluminum fins.
The combination of copper tubing and aluminum fins is industry-recognized as the most efficient transfer of thermal heat.  By making the condenser coil copper tubing smaller and smarter, Goodman improves on standard design, resulting in an A/C unit that offers higher efficiency, uses less refrigerant, and achieves lower cost comfort.
Environmentally responsible, Goodman cooling units feature R-410A refrigerant, increasing reliability and durability of the compressor.
Goodman cooling equipment is designed with sound dampening features to keep operational noise to a minimum.  Quiet condenser fan system and unique louvered sound control top are key factors in the reduction of fan-related noise.
These models are AHRI certified, and ENERGY STAR qualified models are available.
Goodman products are known for superior warranty coverage, lower price tags, and exceptional quality.
The cabinet features a convenient side panel, allowing access to the controls and providing enough space for accessories.
Attractively designed, Goodman cooling systems fit seamlessly into any home environment.
Louvered cabinet, constructed of heavy-gauge galvanized steel protects the coil.   Appliance-quality, post-paint finish safeguards against the wear and tear of time and weather.
Contact Richard's Fuel & Heating Inc. today to get started on your next air conditioning installation project!
Air Conditioning Replacement in Florence, MA | Air Conditioning Installation Easthampton, MA | Air Conditioner Installation Leeds, MA
Air Conditioner Installation

∴

AC Installation

∴

Air Conditioner Replacement

∴

Air Conditioning Replacement

∴

Air Conditioning Installation ∴ Southampton, MA ∴ Leeds, MA ∴ Florence, MA