Ductless Mini Split Repair, Ductless HVAC Installation & Mini Split AC Repair

Florence, MA, Southampton, MA, Leeds, MA, Westfield, MA, Northampton, MA & Easthampton, MA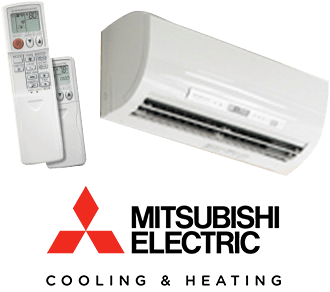 Richard's Fuel & Heating Inc. is dedicated to delivering simple, cost-effective solutions to your home comfort.  The modern alternative of a ductless mini split system allows for wonderful flexibility in design, as well as convenience.  Rather than cutting holes in walls, sacrificing closet space, and dealing with major renovations, these systems only require a three inch hole in an outside wall.  The indoor unit is approximately ten inches deep and very lightweight, so it can be mounted on almost any wall.  When you call Richard's Fuel & Heating Inc. for installation, we answer the most difficult challenges for home temperature control with an elegant solution.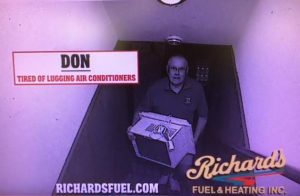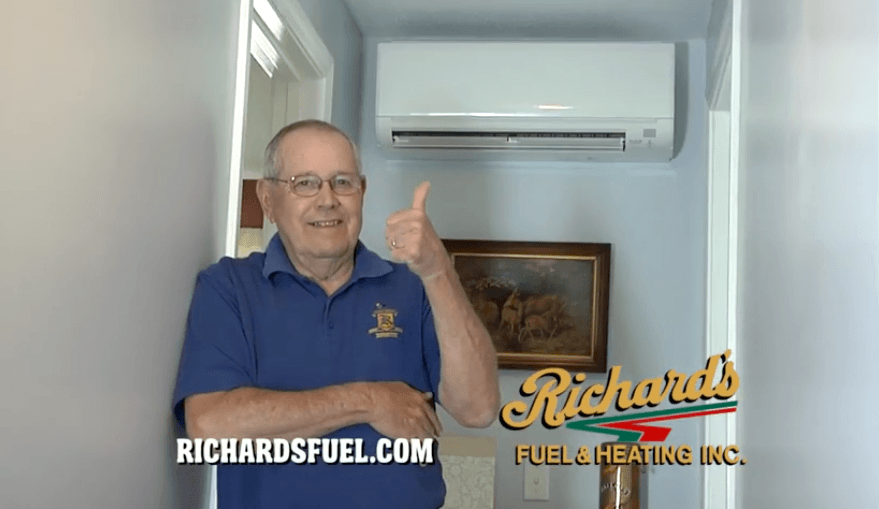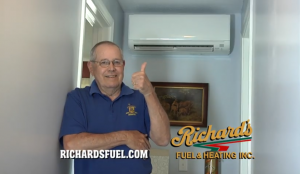 Trust in us for repairs, installations, or service for your ductless HVAC system!
If you experience any trouble with your mini split system we installed, the trained technicians from Richard's Fuel & Heating Inc. have the skills, training and tools to handle everything from seasonal maintenance to complex repair.  Richard's Fuel & Heating Inc. is the leader in ductless HVAC services for Easthampton, Florence, Leeds, Northampton, Southampton & Westfield, MA.
We use only the best products for ductless mini splits and all your heating and cooling needs!
With over fifty years of hands-on experience, Richard's Fuel & Heating Inc. recognizes Mitsubishi Electric as the industry leader in ductless technology.  Our staff is always updating training on new technologies, and we will research available rebates. Defining state-of-the-art comfort for years, these systems live up to high expectations of efficiency, performance, and reliability.  Included in the many benefits of investing in the Mitsubishi Electric Ductless Mini Split M-Series are the following:
There are none of the energy losses, maintenance issues, expenses, and renovations associated with ductwork.
As a permanent solution to comfort, the need to move portable units in and out of windows is eliminated.
You can enjoy the view from your favorite window, instead of living with a bulky window unit.
There are none of the security risks of an open window.  Noise pollution, bugs, and pollen are kept outside, where they belong.
These modern units feature thermostats to sustain a constant room temperature, as opposed to the sudden blasts of hot or cold associated with forced air.
Installation only requires a 3-inch diameter hole in an outside wall to allow the refrigerant lines and wiring to connect the indoor and outdoor unit.  This hole is sealed and insulated, preventing drafty air leaks and water from getting in.
The outdoor unit can be located up to 49 feet away from the indoor unit, for exceptional versatility in placement.
The M-Series is designed to keep operational noise to a minimum, offering a whisper-quiet 26 decibels.
Zone conditioning allows the customization of individual rooms to personal preferences, and you can choose which rooms to condition at any given time.
Wireless remote controlled operation enables temperature and fan speed adjustment from anywhere in the room.
Timer functions give you the control to conserve energy when you're away from home, and return to the perfect temperature.
I FEEL mode, on newer M-Series models, samples indoor temperature for two minutes, then automatically adapts the operational mode.
The outdoor unit is slim and compact, and easily mounted discreetly along the back or side of the house.
Many ENERGY STAR rated options, and up to 19.0 SEER.
More aesthetically pleasing, the Mitsubishi M-Series mini splits integrate into any home decor, allowing year round temperature control of any space!
Instructional Videos
How to clean your system's filter:

How to operate handheld remotes:

How to operate the MSZ-FH handheld remote

Ductless AC Repair Westfield, MA | Ductless HVAC Installation Northampton, MA | Ductless Air Conditioning Repair Southampton, MA
Ductless AC Repair

∴

Ductless Air Conditioning Repair

∴

Ductless Heating Repair ∴ Florence, MA ∴ Southampton, MA ∴ Easthampton, MA