Air Conditioner Service, AC Service & Air Conditioner Maintenance

Easthampton, MA, Florence, MA, Southampton, MA, Leeds, MA, Northampton, MA & Westfield, MA

Available for our oil customers who purchase all their oil from us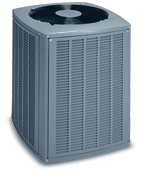 You've invested in a rewarding cooling system.  You want to enjoy it without inflated energy costs, sudden repairs, or diminishing performance.  Over time, without seasonal maintenance, efficiency and cooling power gradually diminishes.  To take the best possible care of your investment, call the professionals from Richard's Fuel & Heating Inc. for a convenient tune-up.  The process is simple, cost-effective, and guaranteed to minimize energy consumption and reduce the likelihood of equipment failure.  You'll also enjoy superior performance, healthier air quality, and extended system service life.
Put your AC service into the hands of the professionals!
At Richard's Fuel & Heating Inc., our service team is well-versed in the latest developments in technology, technique, and modern equipment.  Let us take on the the worry and upkeep of your system so you can enjoy the results.  Some of the benefits of regular service include:
Warranty Protection – Manufacturers require annual maintenance in order to continue warranty protection.  Without a record of service, damage that occurs as a result of neglected maintenance is not covered.
Energy Savings – A well-adjusted system works at peak capacity and consumes less energy.  This adds up to big savings on your utility bills.
Longer Service Life – With regular inspection and tuning, your equipment is maintained in like-new condition, eliminating the wear and tear that cuts service life short.
Fewer Repairs – Troubleshooting performed by Richard's Fuel & Heating Inc. uncovers minor issues before they develop into serious and more costly problems.  Stopping these difficulties before they get started eliminates the majority of breakdowns.
Improved Air Quality – The inner workings of a split system often conceal contaminants such as dust, pollen, insects, webs, dander, mold, animal feces, and even a mouse or two.  This leads to bacteria sprayed into breathing air and circulated throughout the house.  Professional cleaning protects your breathing air for a cleaner, healthier home.
Superior Comfort –  Precise tuning promotes peak operation.  Enhanced dehumidification, filtration, and temperature control creates a more usable and refreshingly cool home.
Peace of Mind – When you trust Richard's Fuel & Heating Inc. with your seasonal maintenance, your cooling system will be ready to handle the summer workload.  Have complete confidence in our service.  We protect your comfort!
Embrace the benefits of your cooling system worry-free with regular air conditioning service from Richard's Fuel & Heating Inc.!
Air Conditioner Maintenance in Westfield, MA | Air Conditioner Service Southampton, MA | Air Conditioning Service Easthampton, MA
Air Conditioner Service

∴

AC Service

∴

Air Conditioner Maintenance

∴

Air Conditioning Service

∴

AC Maintenance ∴ Northampton, MA ∴ Easthampton, MA ∴ Southampton, MA